Lawrence Dale "Larry" Bell (April 5, 1894 – October 20, 1956) was an American industrialist and founder of Bell Aircraft Corporation. Bell was born in Mentone, Indiana and lived there until 1907, when his family moved to Santa Monica, California. He joined his older brother Grover and stunt pilot Lincoln Beachey as a mechanic in 1912. Grover Bell was killed in a plane crash the following year, and Bell vowed to quit aviation for good; however, he went to work for the Glenn L. Martin Company after friends convinced him to return to the industry. He became Martin's shop foreman at age 20, and later the company's general manager.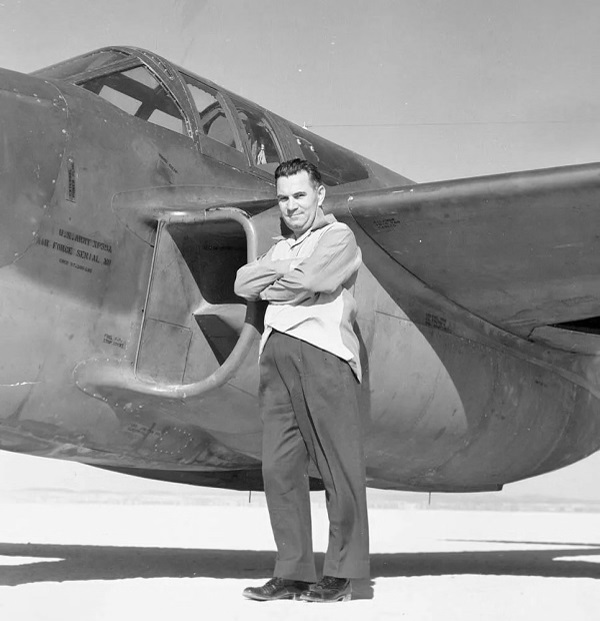 He left Martin in 1928 to join Consolidated Aircraft in Buffalo, New York, eventually becoming vice president and general manager. When Consolidated relocated to San Diego, Bell stayed in Buffalo and founded his own company, Bell Aircraft Corporation, on July 10, 1935. Bell Aircraft built the P-39 Airacobra and P-63 Kingcobra fighter aircraft during World War II. Their P-59 Airacomet was the first jet powered fighter built for the U.S. Army Air Force, but it was not successful, and did not see combat. Postwar, they produced the Bell X-1 , the first aircraft to break the sound barrier in level flight. The company began developing helicopters in 1941, with the Bell 30 taking its maiden flight in 1943. This early model evolved into the Bell 47, one of the most recognizable aircraft in history.
    For his role in the X-1's first supersonic flight, he shared the 1947 Collier Trophy with pilot Chuck Yeager and John Stack, a research scientist with the National Advisory Committee for Aeronautics (now NASA). He was awarded the Society of Automotive Engineers' Daniel Guggenheim Medal in 1944, and was posthumously inducted into the National Aviation Hall of Fame (1977), the Army Aviation Hall of Fame (1986), and the International Aerospace Hall of Fame (2004).
Airmen Index
© The Aviation History On-Line Museum. All rights reserved.
January 3, 2023.