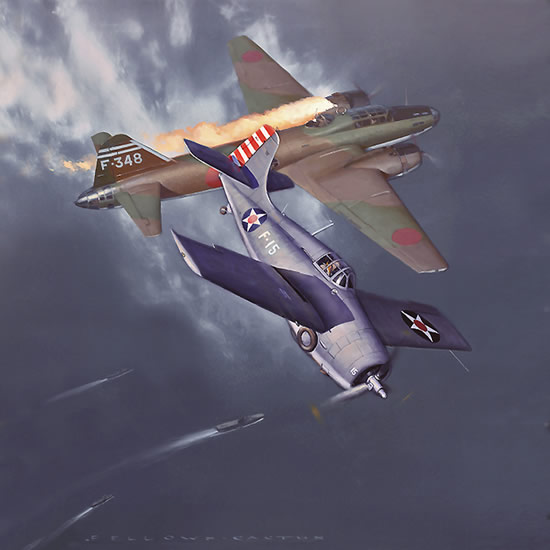 Edward H. O'Hare of VF-42 shot down five G4M1 bombers within minutes of each other.
Image courtesy of Dare to Move.
---
    That afternoon Commander Thach led six Wildcats into the air to intercept nine twin-engine enemy bombers. In a determined attack, each of the Wildcats destroyed a bomber and damaged two more. The ship's anti-aircraft guns finished off the rest.
    In the meantime, nine more Japanese bombers were reported on the way. Six Wildcats, one of them piloted by Butch O'Hare, roared off the Lexington's deck to stop them. O'Hare and his wingman spotted the V formation of Mitsubishi "Betty" G4M1 bombers first, and dived to try to head them off. The other F4F pilots were too far away, to reach most of the enemy planes, before they released their bombs.
    As if this weren't bad enough, O'Hare's wingman discovered his guns were jammed. He was forced to turn away. Butch O'Hare stood alone between the Lexington and the bombers.
    O'Hare didn't hesitate. At full throttle, he roared into the enemy formation. While tracers from the concentrated fire of the nine bombers streaked around him, he took careful aim at the starboard engine of the last plane in the V and squeezed his trigger. Slugs from the Wildcat's four Browning M2 .50-caliber guns ripped into the Japanese bomber's wing, and the engine literally jumped out of its mountings. The bomber spun crazily toward the sea as O'Hare's guns tore up another enemy plane. Then he ducked to the other side of the formation and smashed the port engine of the last Japanese plane there.
    One by one he attacked the oncoming bombers until five had been downed. Commander Thach later reported that at one point he saw three of the bombers falling in flames at the same time.
    By now, Thach and the other pilots had joined the fight. This was lucky, because O'Hare was out of ammunition. The Wildcats took care of several more bombers, and the Lexington managed to evade the few bombs that were released.
    It was an amazing example of daring and shooting skill. Afterward, Thach figured out that Butch O'Hare had used only sixty rounds of ammunition, for each plane he destroyed. He had probably saved his ship. He was promoted to lieutenant commander and awarded the highest decoration of his country, the Congressional Medal of Honor.
    Butch O'hare was later killed, November 1943, during the The Great Marianas "Turkey Shoot," in the battle for the Gilbert islands in the Pacific. He was accidentally shot down by another American airplane on the first successful night-fighter operation from a carrier.