Being inches away from an F-5A Fighter plane air missile, makes this moment an experience to appreciate. The Philippine Air Force (PAF) Museum, Villamor Air Base, Manila, is beside Ninoy Aquino International Airport Terminal 3. The newly renovated museum opened at this location in June 2007. Col Jesus Villamor Air Base, is the PAF's first headquarters since it became independent of the Philippine Army on July 1, 1947.

The Philippine Air Force history not only reflects its influence by the United States Air Force, since the early 1900s, but also their continuing growth as an independent service. Its movement towards autonomy was supported by postwar PAAC (Philippine Army Air Corps- official name prior to PAF) Chief Col Edwin Andrews. Andrews had always advocated a separation from the Philippine Army, but unfortunately died in an aircrash in 1947, before any significant changes had begun. In his place, Maj. Pelagio Cruz led the Philippine Army Air Corps into what is now called the Philippine Air Force.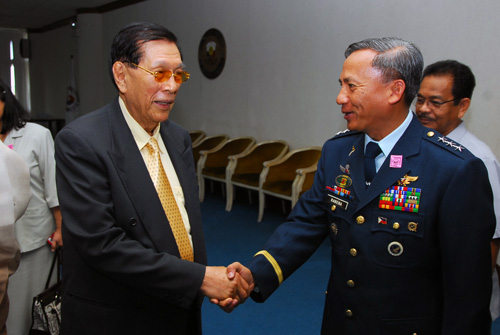 COMMISSION ON APPOINTMENTS:
Commission on Appointments (CA) Chairman and Senate President Juan Ponce Enrile congratulates Lt. Gen. Oscar Rabena after his confirmation as commanding general of the Philippine Air Force during the CA hearing on May 20, 2009.
Upon entering WWI, the US had initially requested Filipino aviation students for flight training to compose the Filipino squadron for the US force. However, the US did not end up using military manpower from the Philippines as originally expected, due to a shortage of aircraft. Despite the Philippine Army Air Corps' limited involvement in WWI, the force was better prepared and equipped for WWII, such as providing intelligence for the Allied forces. As such, the PAF received several post war aircraft from the US, along with equipment, funding and training resources. As a growing service, separate, but still under the umbrella of the Armed Forces of the Philippines, the current PAF continues to carry out aircraft and training acquisition programs. Currently, Maj. Gen. Oscar Rabena is the 31st commanding general of PAF, which is now deemed one of the best-equipped forces in Asia. A modernization program is expected to commence between 2010-2012, for the service to receive more advanced aircraft.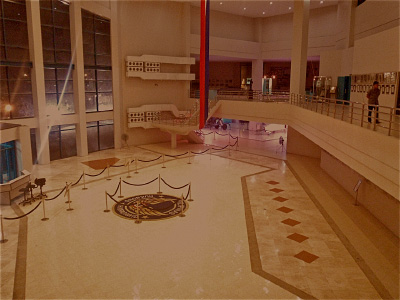 The recent expansion of the museum at Villamor Air Base, symbolizes the growth of the PAF's independence as well as their success in hurdling obstacles, they faced in previous decades. Specifically, throughout the past twenty years, the museum's displays and services have been greatly improved through the support of the Commanding Generals of the Air Force. In fact, the Philippine Air Force Museum generated most of the income of the Command, from more than 35,000 visitors of the past two years. As such, it has earned more than 3 million PHP (approx $63,200 US) since it opened at Villamor Air Base. These revenues will help build other Air Field Museums in other PAF bases.
Showcasing artifacts used by PAF, this gallery is a great place for those interested in learning more about the culture and history of Philippine's Air Force, aerospace science and technology. It is an ideal visiting stopover for researchers, families, students, tourists as well as VIP guests. Inside, the large blue, red and white Philippine flag hangs in the center of the lobby as its patriotic first impression. Artifacts and relics used during WWII, are among the exhibits throughout the building. Miniature airplanes as well as aerospace science, such as a jet simulator, are few of the models. Weaponry, such as vintage guns, are in glass enclosed displays, as well as air force suits used in air defense and battle. Acquisitions highlighted include: medals, wing badges, unit seals, and old uniforms. Historical records as well as framed pictures of all those involved in PAF, since its separate military service formed in 1947, adorn the walls. PAF Chiefs, Commanding Generals and heroes such as Lt Jose Gozar, a PAF hero of WWII, are examples of notable Air Force figures. Photos of all the graduates from the PAF flying school are also displayed in perfect symmetry.
An outdoor aircraft park displaying commercial planes, Air Force planes as well as helicopters is outside the building for visitors to explore. Situated throughout the lot, these aircraft demonstrate the Philippine aviation history. For children, it can be a special treat to be in actual planes and helicopters used in air defense during WWII. Visitors are welcome to take exterior and interior photos. Some of the aircraft models on display are:

The F-5A , also called Freedom Fighter, which is used as a front line fighter of the PAF in securing the nations airspace against hostile intruders. It was previously used in aerial demonstrations during significant national, PAF and AFP celebrations.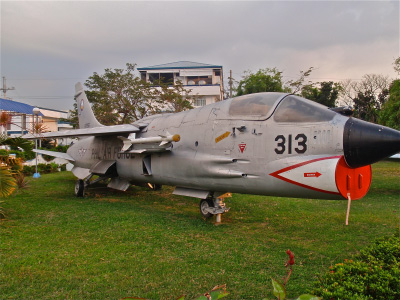 The F-8H Crusader aircraft has variable incidence wings, all weather radar auto pilot, and sophisticated weapons delivery system. It was used by the 5th Fighter Wing for air defense, surveillance and can be equipped with various weapons such as air to air missiles, rockets, 20 mm cannons, M-60 machine guns, and 500 lbs bombs.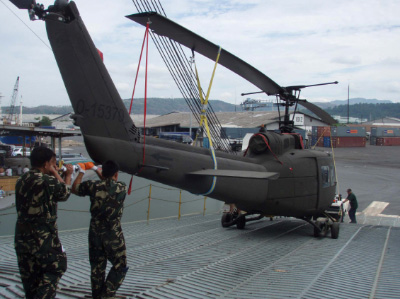 The UH-1H Bell Helicopter, also known as the Huey, was acquired from the US; it was used for front-line casualty evacuation and deployment of troops during the Vietnam War. The first models, as well as updated models, are currently in use by the PAF and the US air force.

The Douglas C-47 Transport is the most famous commercial transport plane in the world. This model was actually one of the first postwar aircraft delivered to the Philippines, from the US, after its use as military aid. On May 18, 1947, that C-47 (named Lil Marlene) was carrying high ranking government officials including Col. Edwin Andrews when it crashed in Lanao.
Previously used for cargo transport, they were converted to a fighting planes in 1973 equipped with machine guns, electronically operated and controlled by the pilot. It was also used by the PAH Weather Reconnaissance Squandron for rain making and rain suppression operations. As of 1995, there are still 2,000 of these aircraft in service.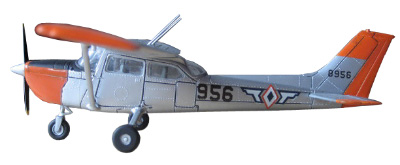 The Cessna (172) T-41D Mascellero is primarily used for pilot training as a preliminary flight screener for candidates (en.wikipedia.org/wiki/T-41_Mescalero)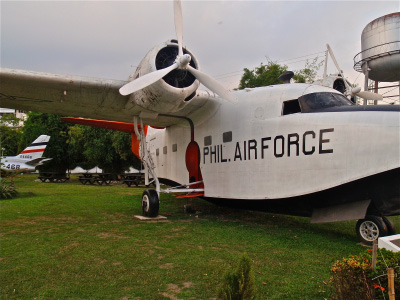 The UH-16 Albatross was designed to take off and land at sea to rescue downed pilots. Its V shaped hull helped the aircraft to land in rough sea conditions. (en.wikipedia.org/wiki/HU-16_Albatross)
The Sikorsky S-62B helicopter used to provide air transport for the President of the Philippines. It was under the operation and maintenance of the 250th Presidential Airlift Wing. This model was eventually phased out due to its single engine feature which does not conform to the requirements for VIP transport.
Apart from air force exhibitions, amenities in the museum include a party room that can accommodate 250 people for birthdays, weddings, conventions or other similar functions. It costs 5,000 PHP ($104 US) for a minimum 5 hours use. There is also a mini theater that fits approximately 44 people (2,500 PHP or $51 US) A souvenir shop is also in the building with various PAF aircraft and PAF logo items such as T- shirts for sale. Visitors can purchase refreshments and snacks here as well. The entrance fee is 20 PHP/person and complimentary for Air Force family members.
For more information:
Contact#: (63) 2-8323498
Hours of Operation: 8:00am - 12:00pm (Monday to Friday), 8:00am - 12:00pm (Saturday)
Sources:
www.paf.mil.ph/index.php/about-us/paf-aircraft
en.wikipedia.org/wiki/Philippine_Air_Force
Villamor Air Base museum monument descriptions