Following a rough couple of days crossing the relatively safe airspace of the U.S., the 10 World Flight aircraft went through inspection by the Canadian authorities in Bangor, Maine before moving into a series of flights that would get progressively more dangerous and unpredictable. Starting off was the North Atlantic Crossing with a grueling straight shot from Goose Bay, Labrador to Reykjavik, Iceland, a route commonly flown from North America to Europe during World War II.

Participants were all tense and excited about the flight across the Atlantic as Mace Pinchal's journal entry from the night before indicates, "I don't think there isn't a pilot or someone just plain interested in aviation who hasn't dreamed of what it would be like to fly across the North Atlantic in a small airplane. In elementary school I read The Spirit of St. Louis' and was captured by that dream. Oh, it's not that big a deal anymore, I guess. With the high level of dependability in today's modern aircraft and with such technological marvels like the GPS to guide them, crossing the Atlantic in small airplanes has become routine and safe. But to a 9 year old boy who used to fly with his dad and imagine that their flight wasn't from Montauk Point across the Sound to Nantucket, but St. Johns to Ireland-today that boy's dream would become a reality. But anything might happen is such conditions?
Shot of the King Air's wing during a spectacular diversion to Greenland for fuel.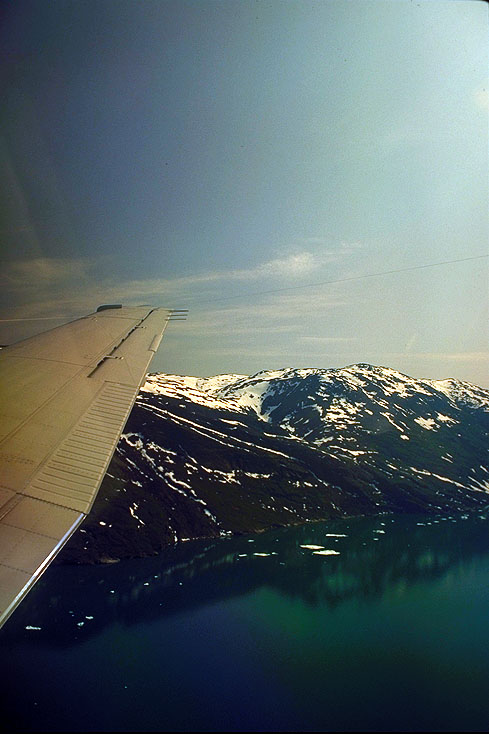 "One of the natural highlights of the World Flight was seeing the geologic wonderland of Greenland, an island that is mainly covered with a huge ice cap reaching upwards of 14,000 feet in some places. After hitting severe headwinds, which shifted right at the tip of Greenland, half of the World Flight aircraft ended up diverted to Narsarsauq for fuel. As it turned out this is a lucky and fun diversion."
"The 92 World Flight Across Russia will fulfill that dream, a dream flight into the honeymoon period of a major turning point in world history, a dream flight across the North Atlantic as part of a bigger dream flight, one which I could scarcely imagine accomplishing in my lifetime!"

Dennis Stewart did not sleep well in Goose Bay as he expresses a different perspective on the flight, "I have plotted the entire flight on the Jeppesen North Atlantic chart. We will be close to the magnetic pole giving us a magnetic variation that will change every few degrees of longitude. It will be as much as 38 degrees at times! This is a complete backup plan just in case the GPS system blows. There is lots of noise all night because our room is on the second floor right over the entrance to the bar which is evidently open all night. Car doors slamming, taxis honking for their fares, arguments, etc. I wake up at 0300, unable to sleep any more. I'm not nervous, but I am thinking about this seven hour trip over water. I know very well that, short of actual aerial combat, making a long flight over water in a single-engine aircraft in the high northern latitudes is about a serious as flying can get."

Upon arrival in Goose Bay the weather conditions for the crossing were uncertain and the best good weather alternate at the tip of Greenland, at Narsarsuaq, was probably out of action due to runway repairs. Such uncertainties led many to stay up late working on their flight plans, discussing with other pilots with aircraft of similar capability various strategies for the crossing. Goose Bay is a WWII base turned into NATO fighter base where planes from all the Western Allies train because the countryside closely resembles Russian and East European territory. We were flying in the wake of legendary pioneers who dreamed of crossing the Atlantic or doing so in the context of a World Flight. Wiley Post flew twice across the Atlantic during World Flights Over Russia in conditions that went from mostly bad to often horrendous, frankly both flights were downright scary.

Post's two record breaking World Speed Flights, in 1931 with Harold Gatty and in 1933 alone, inhabit a wondrous realm of aviation by virtue of his discipline, endurance and forthright nature. Having his exploits downgraded after the 1931 flight was called a fluke because "he just flew where Gatty told him to," Post did the impossible and flew alone on a World Flight Over Russia. Not only that, this man with barely an elementary school education raised on a hard scrabble farm in Oklahoma, was a first rate aviation pioneer who continued innovate new flight technology that was way ahead of its time.

In 1935, using a pressure suit he had developed, Post proved the advantage of stratospheric flight by taking his famous five year old single-engine Lockheed Vega "Winnie Mae" 2,035 miles in 7 hours and 19 minutes with an average ground speed of 279 mph. He attempted four transcontinental stratospheric flights, all ending in mechanical failure, before retiring his beloved aircraft to the Smithsonian Air and Space Museum. Post proved to a host of doubters what is now taken as obvious and mundane: that stratospheric flight could be a reality.
A small lake amongst the wilds of Greenland.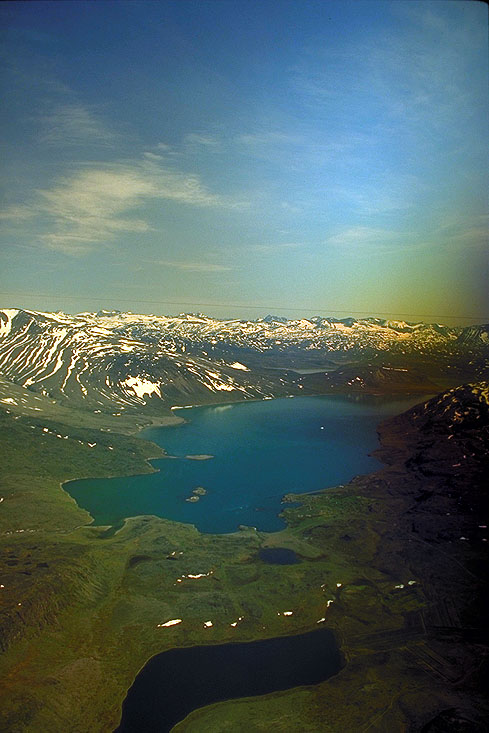 "Since five aircraft arrvied at Narsarsuaq at almost the same time, the controllers got rather confused and the King Air was kept circling at the entrance to the one-way fjord for about 30 minutes. Here is a nice view of a small lake hidden lake near the tip of Greenland."
Our group was set to fly routes very similar to those taken by Post in both of his World Flights Over Russia, which caused Mace to speculate in his journal what would he thought of a worldwide navigation tool as big as a paperback book? When I discovered his routes I was very intrigued with his story as it related to the book, but the more I read about this one-eyed wonder the more I loved his spirit and drive and the more I wanted to retell his story to the world. Wiley Hardeman Post, who was tragically killed at an early age with another Oklahoma legend, Will Rogers, is a credit to aviation and he deserves to be remembered with respect and fondness.

Aviation pioneer Howard Hughes was asked to compare his 1938 World Flight Over Russia in his "Flying Laboratory" to the 1933 solo flight of the great Wiley Post? Before answering he paused thoughtfully and then said, "Wiley Post's flight remains the most remarkable flight in history. It can never be duplicated. He did it alone! To make a trip of that kind is beyond comprehension. It's like pulling a rabbit out of a hat or sawing a woman in half."

This thought is further reiterated in the Smithsonian Annals #8, "Wiley Post left to the field of aviation, and the world a legacy of achievement that in less than a decade had revolutionized aeronautics. The later high-altitude air transport and military flights, and the following man-in-space achievements, including the pressure suits used for the first walk on the moon, all have their origins in Post's pioneering work. Along with Wilbur and Orville Wright's first practical-powered airplane of December 17, 1903, and Robert H. Goddard's, March 6, 1926, first practical liquid-fuel rocket, there is Wiley Post's September 5, 1934 pressurized flight into the stratosphere. As man progresses from the earth to the moon, and onward towards the planets, it can truly be said, There is a bit of Wiley permeating all the craft that man flies'."

Here are stats from 1933: Departure, 5:10AM July 15, 1933, Arrival, 11:59.30 July 22, 1933, Distance, 15,569 miles, Time, 115 hours 36 minutes 30 seconds, Elapsed Time, 7 days, 18 hours, 49 minutes, Speed in Air, 135.5 miles per hour, Average Speed, 83mph

With the big step off North America just ahead the World Flight hoped that some of small setbacks they had been suffering might turn around in this crucial situation. Nothing could be left to chance as survival in the chilly North Atlantic waters is impossible without, and even with protection there are no guarantees. Everyone went to bed rather apprehensive and some didn't sleep as the noise around the hotel seemed to go on all night. When the early morning wake up calls started the weary yet energized pilots made their way to an extremely informative weather briefing giving by Sgt. Dyson of the Canadian military.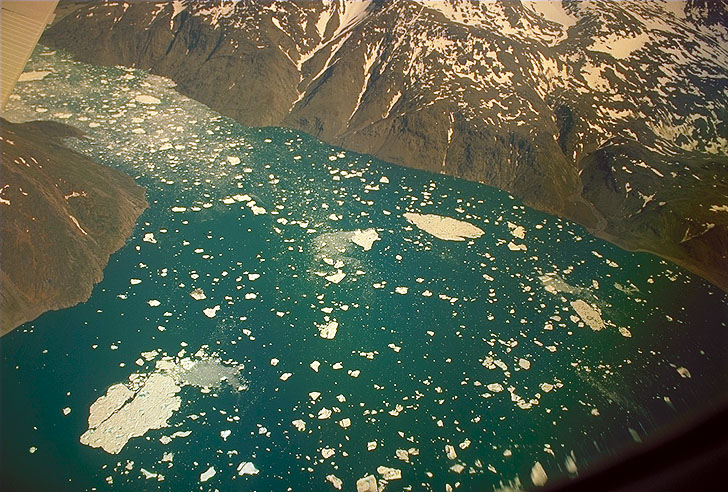 "A chilly fjord with ice floes slowly moving towards extinction in warmer waters. Even the planes which didn't divert got a wondeful views of Greenland as the mountains along the coast seemed to blast right out of the North Atlantic. The single-engine Bonanzas all filed for non-stop flights which were slated to last 10+ hours each."
Bob Leavelle of the Ultimate Trip crew, a Cessna twin-engine 421 owned by his friend Don Temple, had known these same chilly waters 50 years earlier as Merchant Marine in WWII. He relates a voyage in that epic struggle of the Atlantic War in early 1943 when Germany's 6th Army had just surrendered at Stalingrad with 90,000 men, Rommel was being squeezed from both sides in North Africa by Montgomery from the east after a series of victories at El Alamein (Auchinleck won the 1st El Alamein in July, a key battle), and Eisenhower in the west after the successful Torch landings in November 1942.

Hitler's fortunes had changed, but he was still very much in the game as Bob relates his experiences from that time, "The North Atlantic has special significance for me. . . . as I look down from 15,000 feet doing 200 knots I'm reminded that I've been her before, but not in an airplane but as a fireman in the engine room of a freighter. . . . this is one nasty ocean. . . . the time is January or February of 1943 and I was in a convoy making 6 knots that is being escorted across to Liverpool, England. . . . my ship is the S.S. Charles R. McCormick, of WWI vintage, that is about 500 feet long with a capacity of 10,000 tons loaded in Norfolk, Baltimore, and New York. . . . two large steam locomotives were tied down with cable on the deck.

"Weapons equipment seemed to be tied down with cable on every other available square foot of deck space with secrecy as the #1 priority. . . . no one but perhaps Captain knew our destination. Button you lip and save a ship!' is the adage. . . . we sailed from New York, under the cover of darkness, north through the inside passage of Long Island Sound and along the coast to Halifax, Nova Scotia. . . . Halifax has a large port well protected from submarines with nets providing a safe harbor for large convoys to assemble, we get no shore leave, just constant alert waiting for sailing orders . . . . a day or so later the Captain went ashore for briefing with the Commodore, the Commodore was Supreme Commander of the convoy. . . . we thought it was the treacherous Murmansk run. . . . it seemed that's where all merchant ships were going these days. . . . turned out to be Liverpool. . . . not too many happy people aboard. . . . lots of anxiety.

"Lot of crew aboard fit the same mold as me. . . . 20 year olds from New Mexico, Kansas, Iowa that had never seen an ocean before. . . . a few old salts, the Chief Engineer was a Scotchman who had been sailing cargo ships for 40 or more years. . . . Captain appeared to be about 40 years old and was said to have been to Murmansk before. . . . a few old time sailors give us first timers sea stories about Singapore, Shanghai, Calcutta and other ports of intrigue. I recall the Chief Mate passing some sage advice to a new recruit. . . . suggesting the best thing he could do to survive this trip would be to put on wool longhandles. . . . sew em on. . . . cut off the buttons. . . . Your not going to be thinking much about taking a bath for a while' he said.

"At Halifax the Queen Mary steams in. . . wait a minute. . . . hold on. . . . knock off this war story, its July 1992, 50 years after the fact and I'm on a World Flight through Russia and this is the North Atlantic I'm looking at. . . . mighty foreboding. . . . I'm wearing a goon suit again today. . . . that's what we called them in WWII. . . . gives you a couple of days survival in a life raft, so they claim, 3 to 10 minutes without. . . . I'm wearing it. . . . it would be impossible to put it on inside the airplane in an emergency. . . . when we land this airplane in London there will surely be an Albatross sitting on the rail. . . . of course I'll tip my hat. . . . an old seafaring tradition. . . . good omen!"

Good omens might be needed for the World Flight crews as luck has not been their strong suit yet, minor breakdowns and increasingly bad weather has everyone a bit nervous in light of the fact conditions in Russia two weeks ago were horrendous just about everywhere. Here was the big step into the adventure of a lifetime, a flight into the heart of our old WWII Allie and recent bitter enemy in the struggle between East and West. An expensive and bloody Cold War waged throughout the world on hundreds of fronts, from the academic to the athletic, from the military to the U.N. and from music to missiles; surely one of the most expensive, protracted and fascinating battles in history!
A World Flight Over Russia Home Page

© The Aviation History On-Line Museum 1999 All rights reserved.