Hawker Chairman Sir Roy Dobson noticed that the purposed wing for the AW650 was almost the same size and shape as that of the Avro Shackleton Mk.3 and ordered that it be used in place of the wing that the AW team had designed. By the time the Avro wing had been modified to allow for this radically different use, the cost savings was gone, and the Argosy (as it had been renamed) was saddled with a wing that was 1,500 lbs. (680 kg). Overweight and its excess drag cut the cruising speed by 20 knots (37 km/h).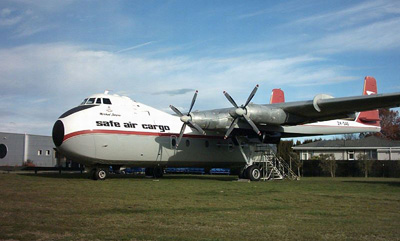 ZK-SAE, Merchant Enterprise in Blenheim, New Zealand.
(Photo: Wikopedia)
---
    Other economy measures involved using current production turboprop engines and nacelles from Vickers Viscounts, and making the twin booms out of sections of Gloster Meteor fuselage, since a nightfighter version of that jet was being built under contract by AW at the time. Finally, there was no prototype. Two airframes were expended in static tests, everything else was a production machine. The first of these to fly (G-AOZZ, AW S/N 6651) on January 8, 1959, ended up hauling military equipment for Universal Airline and Duncan Aviation in the USA as N896U. It logged its last flight time in September of 1990 and it is believed that this was one of the last flights for any Argosy (Duncan Aviation in Alaska appears to have retired its last two planes in 1991). It is currently on static display at the Yankee Air Force Museum, Willow Run.

The AW650 served all over the world, providing support for UK military forces in NATO and in Malaysia. The RAF ordered a more powerful version with a beavertail rear door that could open in flight.
---
    After this first group had been built, RAF orders finally followed and a more powerful version with a beavertail rear door was produced. This aircraft served all over the world, providing support for UK military forces in NATO and in Malaysia. They ended their days as radar calibration aircraft, their 4 huge propellers providing excellent radar targets in the air.
    The two booms extending back from the fuselage, and the sound of the Rolls Royce Dart turboprops, gave rise to the nickname, "Whistling Wheelbarrow." The RAF version (Argosy C Mk I) added a 3 foot (1 m) diameter radome in the center of the suggestively shaped nose, which caused crews to dub it, "The Whistling Tit."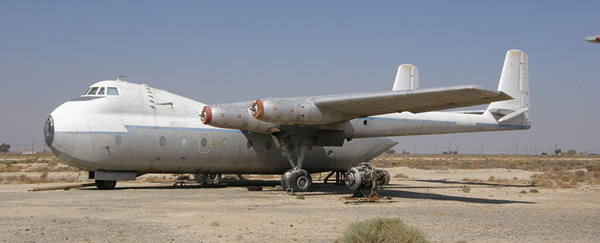 XP447 at Fox Field, Lancaster, California, USA. (Photo: Wikopedia)
---
    Oddly enough, it was in civilian service that the Argosy had its most colorful adventures. In December of 1978, a New Zealand-based Argosy transport was used as a UFO lure for a camera crew from Australia s Channel 0-10 Network. Air freighters crossing Cook Strait, north east of South Island had reported unidentified lights that appeared to chase their aircraft. Cameramen managed to get some 30 seconds of footage of bright lights and Wellington radar reported that there was a target in formation with the Argosy at several times. Later investigations showed that most of the phenomena observed could be attributed to the very bright mast lights of shrimp trawlers working in the Strait. As for the radar target in formation, well, those four big props make a very good target, but they are spinning, which sometimes confuses the Moving Target Indicator circuits of a radar set. No matter, it's still a great story.
    On October 14, 1965, AW S/N 6659 (N601Z) flying for Zantop Airlines ran out of fuel over Piqua, Ohio on the way to Wright-Patterson Air Force Base and landed on the northbound side of the I-75 freeway, touching down just south of the Piqua-Troy Pike overpass. The overpass support columns sheared off both wings outboard of the tail booms. This marked the first (and, thankfully, only) instance of an Argosy being involved in an automobile/aircraft incident, with a car driven by Miss Betty Kaufman having just entered the overpass while the Argosy was on its landing roll. Miss Kaufman wisely swerved her car off the road as the Argosy whipped past her, showering her car with the dregs of the unusable JP-4 that was spilling out of the ripped wing tank and the landing gear tore off her driver's side mirror. The flight deck of the Argosy is about 16 feet, 6 inches (4.7 m) above the ground, and that overpass has 18 feet (5.5 m) of clearance. It must have been an interesting sight for the flight crew as they rolled out.
    Finally, in possibly the most mysterious use of heavy air support is the story of AW S/N 6778 ( 9Q-COE , Zaire/Republic of the Congo) and AW S/N 6791 ( 9Q-COA , Zaire/Republic of the Congo), used by Otrag Range Air Service. Otrag was a German private venture corporation that was developing a radical and very inexpensive method of satellite launching based on the use of numerous small, cheap rockets bundled together. The organization was the brain child of Lutz Kayser, a student of Eugan Sanger, designer of the Silverbird orbital bomber, development of which by the German Luftwaffe was halted only by the end of Nazi Germany in April of 1945.

The AW650 Argosy on display at the Yankee Air Museum. The Yankee Air Force N896U was constructed in early 1957 and first flew January 8,1959. (Photo: Dwight Koslowski .)
---
    Otrag was granted virtual autonomy over some 49,000 acres of Zairian scrub land that contained a single high plateau, on which, Otrag built a private airstrip and launch complex. Rumors of possible technology transfers to Libya, South Africa and virtually anyone else imaginable, a desire by the French to kill off competition for their Ariane launcher, a similar desire by the Russians to protect their launch business, and the very public ire of African nationalists who saw Otrag's privileged status as an insult to African pride, caused heavy pressure for West Germany to withdraw their support.
    Frankly, it sounded so much like the set-up for a James Bond movie or a science fiction book, you almost couldn't blame people for being suspicious. At any rate, 9Q-COE crashed on landing at the launch complex on 1st June 1979, 9Q-COA was left stranded in England and eventually scrapped. Strangely, ORAS appears to have survived the end of Otrag—they still had Gulfstream executive aircraft registered to them operating in Africa well into the 1980s.
    Armstrong Whitworth had also explored an auto ferry version of the Argosy, with cars driven onto the cargo deck and their drivers then being accommodated in a pressurized cabin to be built behind the flight deck above the cargo area. While this idea came to naught, a New Zealand airline custom built a passenger pod, that was loaded into the cargo area. It included seats from a Boeing 737, stewardesses and a modest galley. The pod was pressurized, but had no windows. By the end of the 1980s the 73 Argosys build by AW were rapidly dwindling. Their ranks have been thinned by lack of spare parts and the survivors were being replaced by more fuel efficient aircraft. Three are preserved in museums in the U.K., three more in the U.S. and one in New Zealand, however none remain airworthy.