The B-47C was also known as the XB-56. Two B-47 aircraft were modified to XB-47Ds in 1955 when the inboard engine pods were replaced by Curtiss Wright YT49-W-1 turboprop engines of 10,000 horsepower.

    The first B-47E was flown on January 30,1953 and this version was powered by six J47-GE-25A jets with 6,000 lb of s.t. or 7,200 lb s.t. using water injection. Two radar directed 20 mm cannons were mounted in the tail cone as sole defense since the speed of modern jet bombers makes conventional forward armament useless. Maximum bomb capacity was 20,000 pounds with a range of 1,600 miles, which could be extended by inflight refueling. Top speed was Mach 0.65, or 630 mph, at 10,000 feet, and cruise speed was 495 mph. Empty weight was approximately 80,000 pounds and normal loaded weight was 175,000 pounds with fuel capacity exceeding 17,000 gallons. Dimensions were typical of the series; span, 116 feet; length, 109 feet 10 inches; height, 27 feet 11 inches; wing area, 1,428 square feet.

    The Stratojet was the first production bomber to utilize the unique "bicycle" type landing gear, although not the first aircraft to be so equipped.

    Other variations of the B-47 include the reconnaissance and weather-photo types as the RB-47E and RB-47K. The ERB-47H was a radar loaded Stratojet which carried a crew of five instead of the normal three.

    As B-47s were being phased out of active service, many of them were converted to QB-47 radio-control drones for use in missile evaluation tests.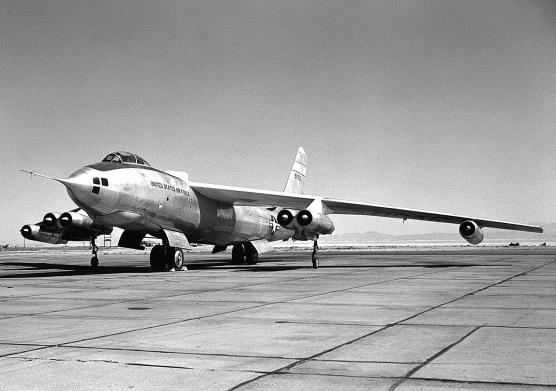 The Stratojet was the first production bomber to utilize "bicycle" type landing gear.