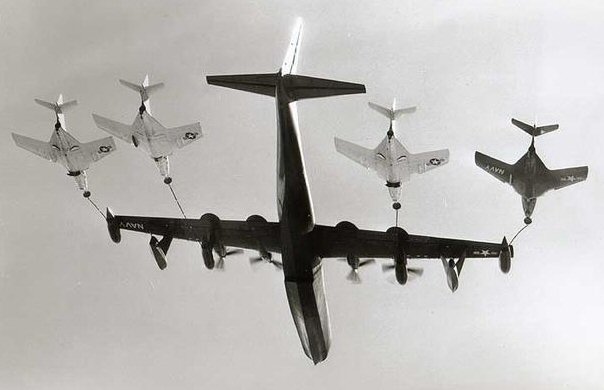 The Convair Tradewind set a record in 1956 when it simultaneously refueled four
F9F Cougars in-flight.
---
    The Navy sought to use it as a patrol craft, troop transport, flying ambulance and fuel tanker. As a patrol craft, it mounted 5 pairs of 20 mm guns, two on each side fore and aft, and one pair behind the rudder. The Tradewind could lift 8,000 lbs. (3,629 kg) of stores. It had a range of 3,450 miles (5,552 km) without stores. In this configuration, the Navy called it the "P5Y".
    In the troop transport/ambulance arrangement, it was called the "R3Y" and could carry 103 fully armed troops or 92 stretcher patients and 12 Medics. The fuel tanker model was also called the R3Y. It was this model which went into the history books in 1954 when it set a transcontinental seaplane speed record of 403 miles per hour utilizing the jetstream. It again set a record in 1956 when it simultaneously refueled four F9F Cougars in-flight. The speed record still stands.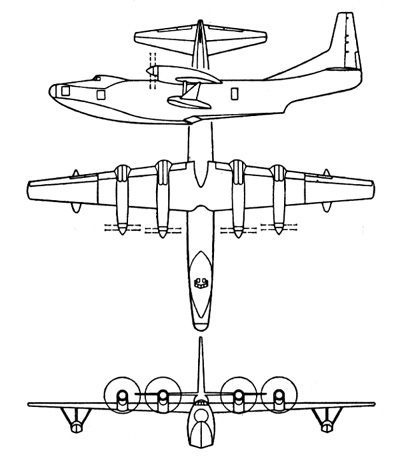 At various times, the Navy had further plans to use the P5Y as an assault boat, a nuclear powered aircraft and several other configurations. Engine problems ultimately blocked these plans.
    Two P5Ys, five R3Y-1s and six R3Y-2 Tradewinds were built before production was halted, What should have been one of the Navy's best and most beautiful boats was destined to be very short lived. The Allison T-40 engines were troubled from the start and the problems were never adequately remedied. One of the two original XP5Y-1s crashed and the suspected cause was engine failure. Subsequently, several more of the R3Ys were wrecked and it was judged definitely due to faulty engines. Finally, in 1958 the Navy ordered them grounded and sold for scrap.