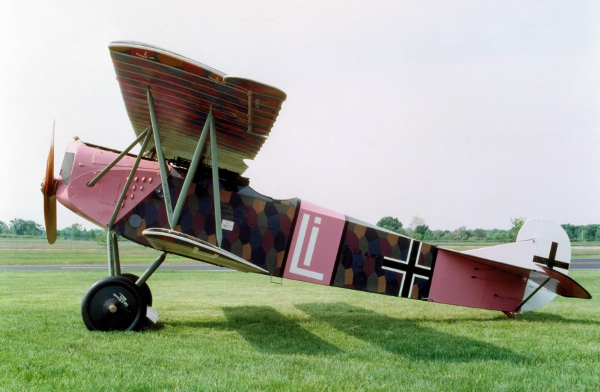 The fuselage was constructed of wire-braced welded steel tubing with a three-ply top decking behind the cockpit; the whole being fabric-covered, except for the engine cowlings. Fin, balanced rudder, tailplane and balanced elevators were also of fabric-covered steel tube. Two struts braced the tailplane from below. The undercarriage was of streamlined steel tube and its axle was enclosed in a large fairing which gave some extra lift.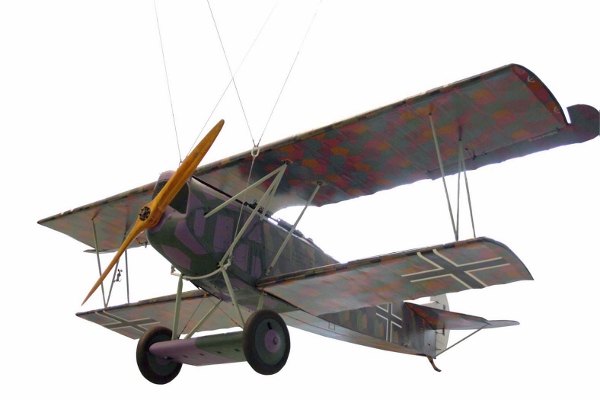 Twin Spandau guns were synchronized to fire through the revolving propeller.
---
    Following its success at Johannisthal, the type was ordered in large quantities; not only was it built by the Fokker concern (Fok. D.VII F), but also by its rivals, the Albatros Werke (Fok. D.VII (Alb.)) and the Ostdeutsche Albatros Werke (Fok. D.VII (OAW)). Mercedes and BMW engines appear to have been distributed impartially to all three companies.
    While not especially fast, the D.VII's strong point was its great maneuverability at high altitudes. It was extremely easy to fly and had no terrors for the beginner. Jagdgeschwader Nr. 1, the Richthofen 'Circus', received the first D.VIIs in time for the Second Battle of the Aisne in May 1918, and soon found that the new type gave them a good margin of advantage over their opponents. By the autumn the majority of the Jastas had been reequipped with D.VIIs. So highly did the Allies esteem the machine that their Armistice terms specifically ordered the surrender of all Fokker D.VIIs.
    As a safeguard against a possible shortage of steel tubing and competent welders, the Albatros company built a D.VII with a plywood fuselage, but it was not found necessary to produce this variant. When the war ended, production of the type for Austro-Hungary had begun at the Hungarian Engineering Factory, Budapest (MAG). Total production was approximately 3,300 aircraft.