A dorsal fin was added to the second prototype and the request for six guns was dropped due to limitations on the aft movement of the center of gravity.

    Grumman was awarded a contract for 2,023 F8F-1s on October 6, 1944 and a contract was also awarded to General Motors on February 5, 1945, for 1,876, F3M-1 Bearcats. The F3M-1 was to be powered with the R-2800-34W engine with a small increase in fuel capacity. Grumman began equipping squadron VF-19 on May 21, 1945 , but the end of the war brought a cancellation to the GM contract and the Grumman order was reduced to 770 aircraft.11 US Navy units continued replacing the Hellcats with Bearcats through 1947 and 1947 with a total of 24 units receiving the type by 1948.

    Grumman received an additional order of 126 F8F-1Bs with 20mm cannons replacing the .50 machine guns. fifteen of the original order were completed as F8F-1N night fighters with a radar pod located under one wing.

    In 1948 Grumman produced 293 F8F-2s with many improvments, such as a revised cowling, raised vertical stabilizer and rudder and with armament of 20mm cannons. Also produced were twelve F8F-2Ns as night fighters and sixty F8F-2Ps as reconnaisance aircraft. Production ended in 1949 and that same year, Bearcats were withdrawn from frontline service with the last F8F-2Ps withdrawn in 1952.

    Bearcats were later used as drones and designated F8F-1D and F8F-2D.

    In 1946, a "time to climb" record was set by an F8F, which, after a take-off run of only 115 feet, reached 10,000 feet in 94 seconds!

    Although it never saw combat with U.S. forces, the French used the Bearcat during their war in Indochina.

    The Royal Thai Air Force kept its Bearcats in service until 1960.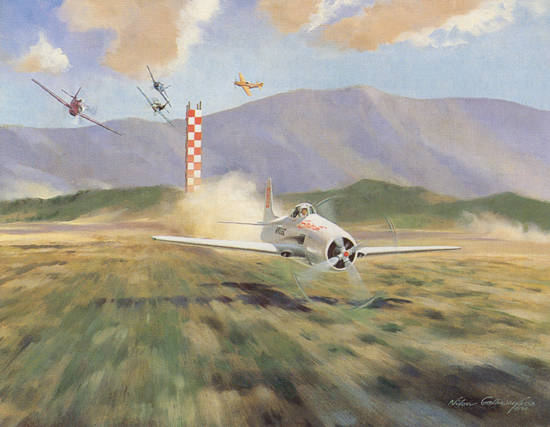 Caption (Image used with permission from Dare to Move.)
---
    A number of Bearcats found their way into civilian hands, and were flown as air racers. One of these, "Rare Bear", set the world speed record for piston – engine aircraft, after hitting 528.33 mph in 1989. Of course, Rare Bear is highly modified, and is powered by a Wright R-3350 engine that generates over 4,000 horsepower!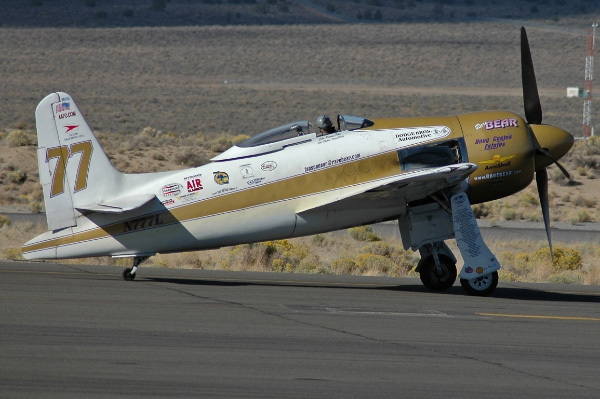 The "Rare Bear".
---
    Editors Note: There is conflicting information in various publications as to when work started on the F8F Bearcat and how much the Focke-Wulf Fw-190 influenced its design. In some publications, the design date is set in July of 1943, and other publications the design date is set after Grummand test pilots flew a captured Fw-190A in England, after September 1943.