Business flourished during World War I. Aviation was growing and so was the competition. Prices during the war skyrocketed and it appeared that the average man was not going to be able to fly if the trend continued. What was needed was a flying machine cheap enough for the man-in-the-street to buy and just as easy to fly. To Heath everything in aviation was too expensive.
    He set about to prove this in 1918 by building his third airplane. For all practical purposes this was his first light plane. He came up with a 270 pound single seat biplane with a 20 foot wing span, powered with a 12 to 15 hp motorcycle engine. He had taken the engine, modified, lightened and worked over it until he was satisfied it would be suitable for an airplane. Heath had no trouble flying his new airplane which he called the "Feather." He planned to build and sell his new design, but WWI came to an end and the government began unloading so many surplus aircraft and engines on the market that even the "Feather's" anticipated low price could not compete.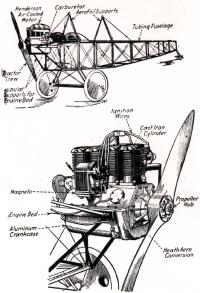 Converted Motorcycle Engine
    Heath began to specialize in replacement equipment for Standards, Thomas Moreses and Jennys. Business picked up and barnstormers all over the country knew where spare parts could be had. Heath bought several trainer type airplanes himself and taught flying. During the war he had changed the business name to Heath Airplane Company. However, it was not until 1921 that Heath got around to designing another airplane.
    In the fall of 1922 the "Favorite" biplane was completed. He flew it from Chicago to St. Louis with four passengers, winning 3rd place in the "On to St. Louis Air Race." The success of the "Favorite" prompted Heath to enter the aircraft manufacturing field permanently. He hired aeronautical engineer Claire Linstead and together they produced the shoulder wing, full cantilever monoplane racer known as the "Tomboy." Wingspan was 22 feet and power was supplied by the small 32 hp Bristol Cherub engine.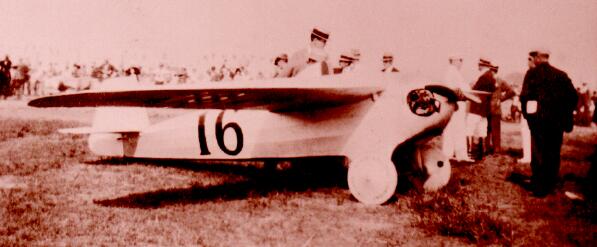 Heath Tomboy
    Heath piloted the "Tomboy" to first place at the National Air Races held at Philadelphia. He defeated a field of seven aircraft and won $2,250. With this prize money Heath and Linstead set about designing the first of the famed Parasol models.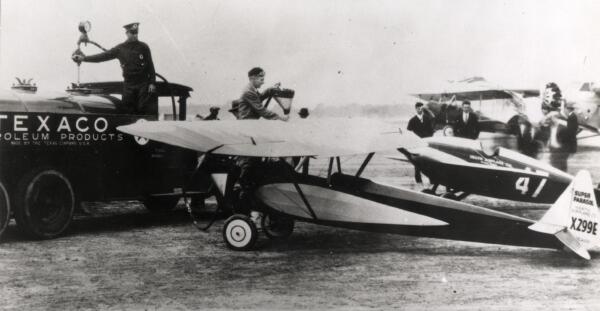 Ed Heath fueling his Super Parasol at the 1929 National Air Races.
    It appeared to Heath that he now had the formula for a suitable "averageman" lightplane. Another, more refined version of the Parasol was constructed in the spring of 1927. He flew it to Spokane National Air Races and won $1,500 in the light plane efficiency class. He was gaining national aviation attention and recognition came from all parts of the country.
    Heath began to preach "Build your own airplane." Some customers wanted the whole machine. Some wanted only parts. The Heath Super Parasol was created and advertised for $595.00 complete fly-away factory. After a disastrous fire in 1928 he moved and increased expenses forced him to increase the price to $695.00.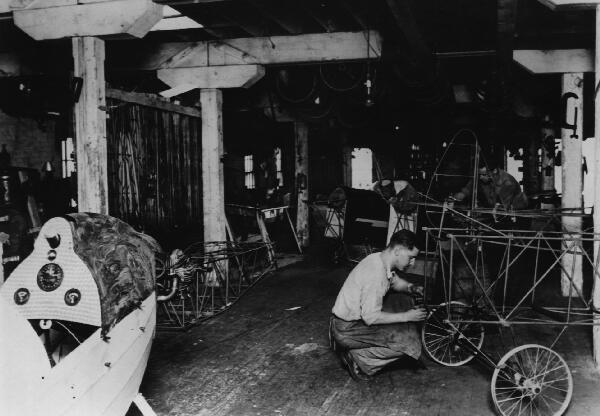 Heath Factory in 1928.
    Heath also sold blueprints for $5.00 to people wanting to build their own. The Heath engine, a four cylinder inline upright air cooled type, basically a converted Henderson motorcycle engine, was the recommended engine to use. In later years the Heath engine was further modified and given the company designation B-4. The engine, including a wood propeller, sold for $285.00.
    Between 1927 and 1930 hundreds of blueprints and dozens of kits were sold, but only a few factory-built models were completed. With the success of the Parasols, Ed Heath's dream had come true. He had successfully marketed a low-cost airplane.