You can tell just by looking at her that she was built for the tough daily grind of pilot training. She's so tough, in fact, that, to date, there have been no Airworthiness Directives issued on the OTW. And, her gangly landing gear can absorb the abuse of ham-handed fledglings. Some pilots report that the long stroke oleo struts make landings non events and further prove she is a mild-mannered lady of the skies.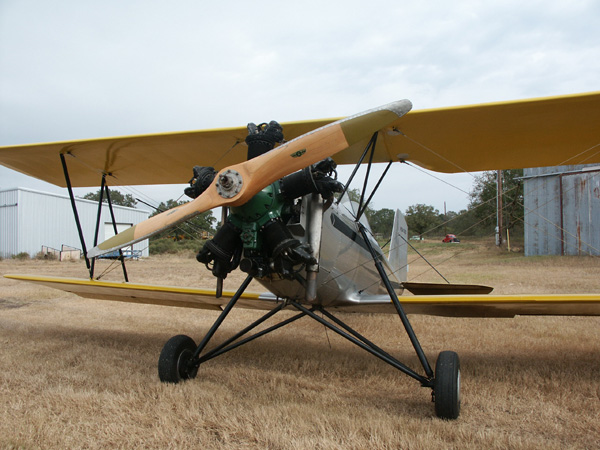 The OTW further stands out from the crowd because it features an all-aluminum fuselage. Though expected for a military fighter aircraft of that era, this feature was rather unusual for a trainer. Though a rugged aircraft, the USAAF elected to purchase conventional fabric covered planes. This was in an attempt to better use strategic materials like aluminum. The Meyers fell out of favor and production was halted in September of 1942 (though some sources indicate 1943 while others advise that it was 1944).
    A couple of interesting notes about the engines is that one OTW, serial # 43, was fitted with a 120hp Ken Royce (the same engine that can be found on some of the Rearwin aircraft). But, it was found that more power was needed for the training role. Another is that some of the aircraft that began life with the 125 hp and 145 hp engines now have the 160 hp Kinner mounted on them. These are usually the R-55 or R-56 series engines that are identical to those used on the Ryan PT-22.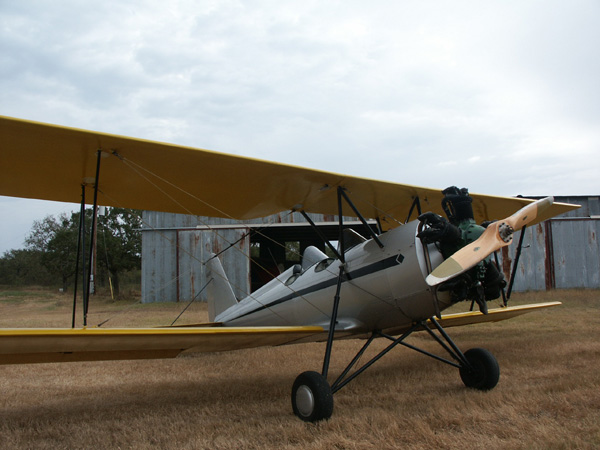 There are estimates of about 57 to 60 OTWs still in existance of the 102 produced. There are reasonable estimates that perhaps 37 to 40 of those still flying. It is really good news to know that some of the non-flying ships are undergoing restoration at this time. Many of the surviving aircraft (flying or not) can be found listed at the Airport-Data website and the Aircraft One website.
   According to the "Sportsman Pilot" website, serial #1 (NC15784), is registered to the Combat Air Museum, Inc. of Topeka, KS. The last one, Serial #102, was retained at the factory until after Al Meyers' death in March of 1976 after which it was donated to the EAA Aviation Foundation in his memory. Though the author is familiar with at least one OTW in US Navy markings, it cannot be established as yet that the OTW actually served in that branch (as did the Stearman).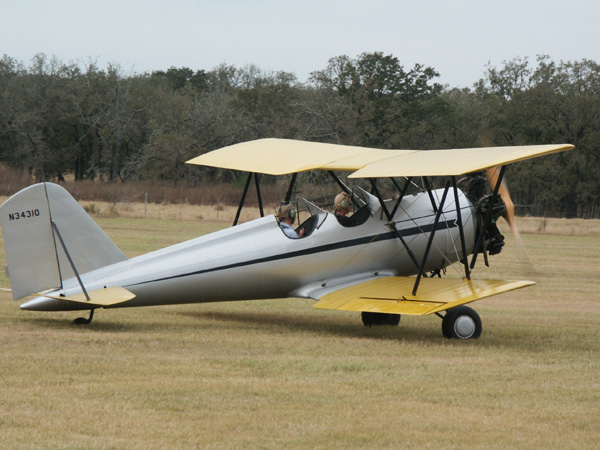 An excellent working representation of this sport plane turned military trainer turned sport plane can be found at the Old Kingsbury Aerodrome just off of I-10 and about 20 minutes east of San Antonio, TX (85TE – www.airnav.com). You can usually find her sitting quietly awaiting A&P, pilot, and owner, Roger Freeman, to haul a biplane-smitten passenger into the blue Texas sky. Those who have flown one know that there are few things a fabulous as flying an old biplane off of a grass strip; just like in the old days.
    Roger's heart-nabbing ship, N34310, is a 1941 model.(#53). She was found lounging in a barn after 40 years of being a parked double-winged dust collector. Roger dutifully brought her back to the forefront where she belongs. Those who show up at some of the airport events and who are patient have been known to have their patience rewarded with a flight in this beautiful biplane.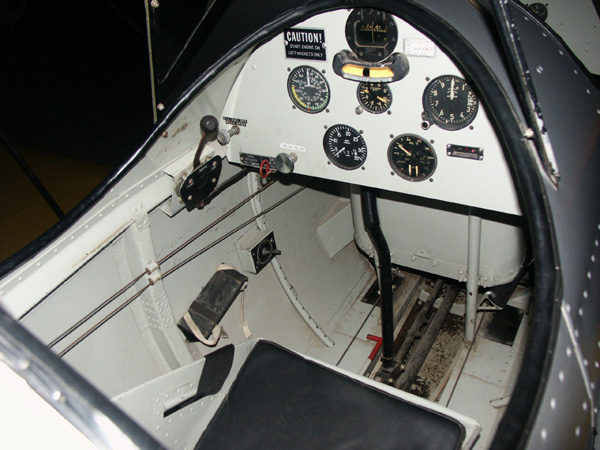 It wouldn't be fair not to note that Roger is also a world-class builder and restorer of WW1 aircraft. One of his most notable projects is a gorgeous Neuport 28 that can be found nestled in a period diorama in the Boeing Aircraft Museum in Seattle. Another is the 1910 Farman IV Box Kite replica now housed at the Hong Kong International Airport.
    He not only owns the super cool rural airport but is the founder and director of the Vintage Aviation Historical Foundation and the Pioneer Flight Museum based there. The museum boasts a number of WW1 era aircraft including a flying full-sized Fokker DR-1 Tri-plane, two Fokker D-7s (flying), RAF SE5a replica, Thomas Morse Scout , and a famous Hisso powered Standard Jenny/Canuck (flying). Some of these aircraft have been used in a number of films and such over the previous three decades. Other aircraft include the Meyers OTW, Bleriot XI, a Pietenpol Sky Scout with an original 40 hp 4 cylinder Model T Ford engine, and a 1939 Luscombe 8A. If that were not enough to pull your prop blades around a few times, he even has a 1917 Model T Ford utility truck, 1916 and 1917 Model T Ford ambulances and a few other four-wheeled oldies to boot. This is a really great place to be on a clear day.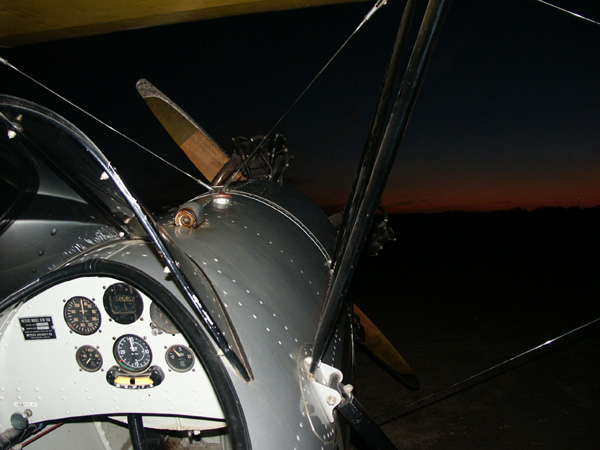 It is with great thanks to folks like Roger Freeman and many other restorers who have insured that we will have the awesome Meyers OTW biplane around for years to come. We need them because these planes are gauranteed to put a smile on anyone's face who has the chance to fly one; spindley legs and all.