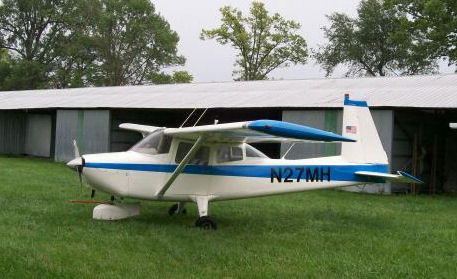 The Darter's vertical tail gives it a "backwards" look in order to improve controllability and reduce drag.
---
    The Chrome-Moly SAE 4130 steel tube fuselage was retained in the cabin area while the entire empennage was redesigned as an aluminum monocoque structure. It's vertical tail had been given it's characteristic "backwards" look to improve controllability and reduce drag. The conventional landing gear were changed into a tricycle gear configuration. The weight penalty was rather high but the ultimate result was an immensely strong aircraft capable of hauling 4 adults off a 1,200 foot long strip, or dropping them into an 800 foot grass runway. Physically, the Darter is 22 feet, 6 inches long, 9 feet, 4 inches high, and has a 35 foot wingspan. Empty, it weighed 1280 pounds coming from the factory but most of the remaining planes have acquired more radios since then so they weigh more. Officially, the Darter has a top speed of 147 miles per hour and a cruise speed of 128 miles per hour, however 1960's era aircraft manufacturer's claims should be taken with a very large grain of salt. If you want to be realistic, subtract about 15 miles per hour from those listed speeds. On the other hand, it will climb strongly at about 800 feet per minute with full fuel and 450 pounds of crew and baggage for as long as you care to stay at full throttle or until you get to the service ceiling of 13,000 feet.
    Virtually unique among light planes, the Darter will happily side slip with the flaps down. More than a few bad approaches to short runways have been saved by this trick to lose altitude quickly. The little aluminum fin on the nose gear wheel pant allows the Darter to pivot around the actual center of the aircraft instead of just slewing the nose around like other planes. For all its dexterity, the Darter is remarkably stable and makes a good instrument trainer. Compared to the Cessna 172, the controls feel heavy, like the plane was much bigger than it really is, a useful attribute for training pilots to graduate to larger aircraft.
    The Darter will quit flying at about 48 miles per hour. With a truly willful application of pilot abuse, Darters will eventually stall. The break is gentle and straight ahead. Relax your death grip on the yoke and the stall will abate instantly. Aileron control is maintained all the way through the stall. With a slightly less aggressive use of elevators, the Darter will enter a mild form of "super stall", an experience that has been described as 'a down escalator ride for airplanes', again, with full aileron control throughout. This is very amusing to demonstrate to young flight instructors that are used to Cessnas. They tend to become a bit green about the gills at first. After a few minutes, the braver ones start to grin widely.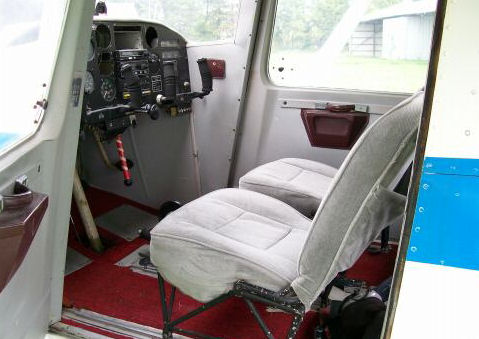 Here's an inviting cockpit. Have a seat and we'll take it for a ride.
---
    Very stubborn pilots with a wide mean streak can force the Darter into a spin. To recover, just pull up the flaps, apply opposite aileron and recover straight ahead. One FAA examiner pilot with 30 years of experience required a demonstration of this technique after insisting that the technique was all wrong and wouldn't work . After the flight she then insisted on copying the spin recovery page from the Pilot's Operating Handbook as confirmation of what she had just seen with her own eyes.
    Volaircraft built 6 initial versions with the Lycoming O-290, 135 hp engine. Being underpowered, they sold poorly. The plane was revamped for the O-320 Lycoming 150 hp engine, a powerplant that had an unmatched reputation for power and reliability among light plane operators. By then, even improved sales did not help the company. At some point in 1963 or '64, the last 8 Volaircraft airframes were started. Serial numbers 020 through 028 were never completed at the Volaircraft plant. Instead, in July of 1965, the tools, production rights and the 8 half completed airframes are sold to Aero Commander. These airframes were given the unusual data plates identifying them as "Aero Commander Volaircraft Model 10A"s. Aero Commander had been making waves in the business aviation world with their fast, efficient twin engine planes and they were looking for a way to "hook" new buyers who could later "graduate" to a larger twin. Naturally, Aero Commander would be happy to sell these "graduates" a high performance twin with a familiar sounding name. Rather than going through the trouble and effort of designing and certifying their own entry level plane, they elected to buy Volaircraft, lock, stock, and unfinished airframes.
    Production moved from Aliquippa, Pennsylvania to Albany, Georgia. The design was refined slightly, and ultimately, 335 Darters (or 1035/1050s or 10As or Cadets, or A/C 100s as they were variously known) were built. Production ended in 1971, with production rights being sold to Phoenix Aircraft. Phoenix never built any more planes. The Type Certification was sold to Dynac Corporation. The rights to build replacement parts devolved to Christiansen Aircraft of Afton Wyoming who eventually gave up trying to figure out how the jigs and equipment worked and scrapped all the tooling. These sales were handled by an ad hoc group of Rockwell staffers who ended up trying to supply spare parts after the tools and parts had been cleared out of the plant and stored in trailers. Record keeping was so poor during the hasty shut down that later, in order to locate critical spare parts, former employees were recalled and flown over the trailer parking lot in Rockwell company planes so they could point out which trailers had which spare parts in them! Eventually, all the remaining spare parts were located and sold to J&C Enterprises in Oklahoma. To supplement the spares, J&C operates the largest Darter salvage yard in the world. They have a rich stock to work from. In the 36 years since the last new Darter was sold, 138 Darters have gone missing from international registries, with 191 Rockwell 100s and 6 Volaircraft remaining active.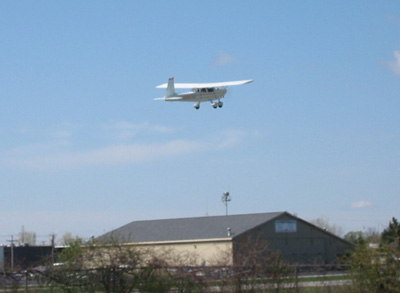 N6665D, Serial Number 028, the last of the Volaircraft, on its
daily commute home from one of the author/owners office.
---
    All in all, the Darter remains a unique aircraft, built to fill a niche that didn't really exist and then forced to try to fill another that already had the Cessna 172 and Piper Cherokee in it. It was another case of a good airplane, trying to compete with (in this case) a pair of true classic machines. Not without virtues, the Darter soldiers on, admired for its ruggedness and economy.