Three (S-307) Stratoliners flew on Pan Am's South American routes; five (SA-307B) served with TWA, and a ninth (SB-307B) Stratoliner was supplied to Howard Hughes. One Boeing 307 (prototype NX 19901) crashed on March 18, 1939 during a test flight. Each aircraft cost $315,000 in 1937 when ordered.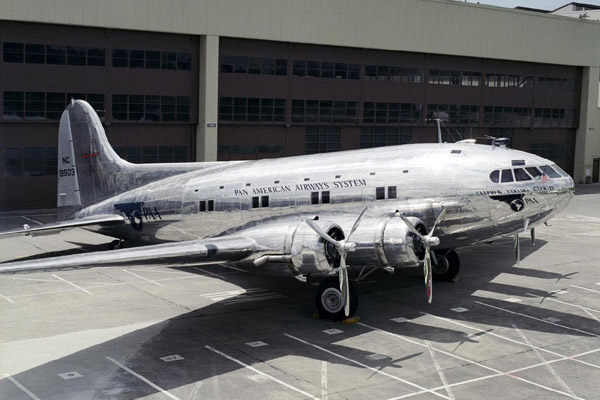 The Flying Cloud, after its six year restoration by volunteer Boeing retirees.
---
    During World War II, Stratoliners were employed as C-75 military transports, flying principally to South America and across the Atlantic. In 1951 the ex-TWA machines, replaced the four 900 hp (671 kW) Wright GR-1820 Cyclone radial piston engines, with Wright Cyclone 1,200 hp (894 kW) engines. The wings were replaced with B-17G wings. They were then sold to Aigle Azur in France, operating to French IndoChina. Here they became involved with the Vietnam War, worked with operators such as Air Laos and were still flying into the 1970s.
    One example survives, The Flying Cloud, and is owned by the National Air and Space Museum of the Smithsonian Institution. After a six year restoration by volunteer Boeing retirees, it was rolled out of the hangar on June 23,2001. Unfortunately, the plane was almost lost, when during a test flight, it ran out of fuel and ditched into Elliot Bay, just west of downtown Seattle. Luckily, the airplane did not suffer severe damage and it was recovered and repaired again. It is currently on display at the museum's Steven F. Udvar-Hazy Center, at Washington/Dulles International Airport.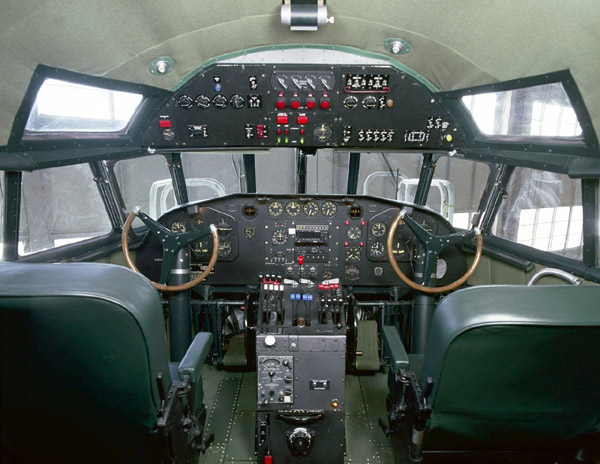 The Boeing 307 Stratoliner cockpit.
---